Zap was founded in July 2000 by filmmaker Michael Gibson and Negotiation and Alternative Dispute Resolution experts Allan Stitt and Frank Handy.
Zap's goal is to popularize the art and science of negotiation to a world audience using interactive simulated adventure games.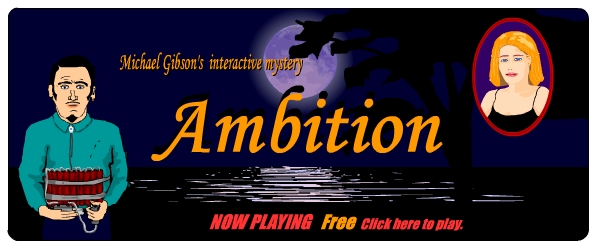 The first Zapdramatic game was launched in January 2001 when "The Desperate Dad", the first of nine episodes in the Ambition murder mystery series, became an underground hit. The episode brought thousands of users to the Zapdramatic Web site, which has steadily grown into a popular member-supported game environment.
Interestingly, over 50 per cent of Zap's paying membership is female. This is a significant achievement in the online gaming world, which has traditionally catered to a younger, male demographic.
In January 2004, Zap released Episode 6 ("The Suspects") in the Ambition series to Newgrounds.com, the world's largest flash portal. The episode earned a featured spot on the main page at Newgrounds and in three days had logged over 117,000 views with an average vote rating of 4/5.
A great deal of the appeal of Zapdramatic's online negotiation games lays in the fact that creator and user can interact with ease. With each launch of a new Zapdramatic episode, users from around the world write in with comments and suggestions many of which are incorporated into subsequent episodes. This collaborative process has helped Zap create challenging, engaging, user-friendly experience for all ages.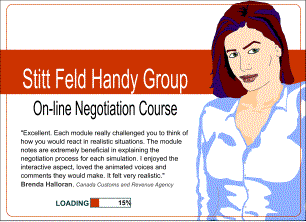 In February 2003, Zap launched an eight part University Certificate on-line Negotiation Course. Four universities around the world offer certificates to users upon completion of the course. Clients include lawyers, professionals, sales people and companies and organizations such as Volvo and the Canadian Federal Government. The Law Society of Great Britain offers professional development credits to their members who complete the course.

In April, 2005, Zap launched Move or Die , an interactive animated adventure series, which challenges users to successfully negotiate with two ethically challenged siblings who are bound and determined to rationalize their way into a deadly collision with the Karma bus. Users from across Canada can log onto the Sympatico/MSN portal, beginning April 1, to play the first hair-raising episode.
Move or Die was honored in September 2004 with the Vortex Prize at the first McLuhan International Festival of the Future.
Zapdramatic was named a winner at the Canadian New Media Awards, winning the "Excellence in Learning" prize for it's Professionalism and Ethics Simulation.
Zapdramatic was selected as one of eight new media companies to represent Canada at the 2005 World Sumit Awards in Tunisa.
Zapdramatic is a division of the Stitt Feld Handy Group.