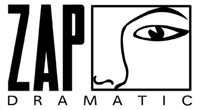 FOR IMMEDIATE RELEASE
ZAPDRAMATIC NAMED AWARD RECIPIENT AT THE FiFTH ANNUAL CANADIAN NEW MEDIA AWARDS
The industry's most prominent advocates and entrepreneurs awarded on May 30th
Toronto, June 1, 2005 – Zapdramatic, has been recognized as one of Canada's new media leaders. Zapdramatic was awarded a prestigious Pixel award in recognition of its significant achievements in new media over the past year in "Excellence in Learning" category of the 2005 Canadian New Media Awards (CNMA). Celebrity host Daryn Jones joined 500 industry supporters to celebrate the CNMA awards at The Carlu in Toronto on May 30 th , 2005.
"This is a tremendous honor for us." says Michael Gibson, president. "This is a very important event, bringing national attention to Canada's dynamic new media industry."
"I am thrilled that our fifth year anniversary can profile such an incredible display of talent" said Adam Froman, Executive Producer of CNMA and President and CEO of Delvinia. "with 19 awards being given, this will bring the promotion of Canadian interactive products and talent to a new level of recognition."
A selection committee comprised of over 100 professional from private, public, regional and national organizations collaborated online to select the 2005 CNMA award winners. The recipients hailed from all across the country and represented a wide range of government, private and public organizations from every facet of the new media industry including programmers, designers, educators and advocates.
More information about the 2005 award recipients can be found on: www.cnma.ca
About the Canadian New Media Awards (CNMA):
The Canadian New Media Awards are presented in partnership with the Department of Canadian Heritage, Wired Woman Society, Telefilm and Delvinia. Produced by CANEMA, the Awards recognize and celebrate the accomplishments of individuals and companies in the Canadian new media industry. The Awards also help promote the new media sector and provide inspiration for those preparing to enter the industry. For more information, visit http://www.cnma.ca .
###
For more information or interviews, contact:
Julie Giles, Green Hat Communications
Tel: 416-762-5328/ E-mail: julie@green-hat.ca