Michael Gibson makes negotiation simulations for Fortune 500 companies. When his 14-year-old daughter told him about social problems she was having with her friends, he tried to help her using negotiation theory.
What became clear was that many of these conflicts were about power, the abuse of power, the underutilized power of the bystander and the disempowerment of the victim. Gibson and his daughter decided to work together to make a game that would simulate the conversations and interactions that were causing her grief. One of the goals was to make it clear that there were always choices, even when backed into a corner and, that some choices were better than others.
Gibson teamed up with subject matter experts Dr. Joanne Cummings and Prof. Deb Pepler from York University who brought their extensive research on the subject of bullying to bear on the game dynamics.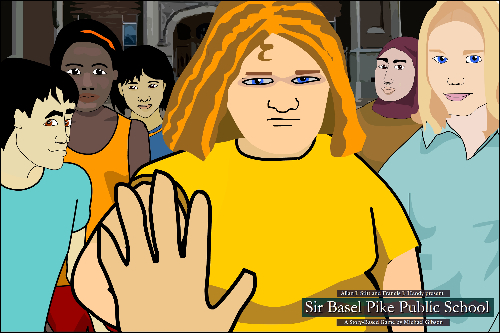 The game, Sir Basel Pike Public School, was piloted at four grade 7 classrooms last fall. Dr. Joanne Cummings described the pilot in her report as follows:
"As soon as the game started students were attentive and quickly engaged. Indeed, within a short time they became highly aroused, and there was a palpable feeling of excitement. In this atmosphere, the students' decisions seemed spontaneous. They openly expressed strong reactions to the action in the story. They exhibited several strong feelings: a keen desire not be left out, derision for some of the characters, empathy for others, nervous laughter when one character felt hurt and alone, expressions of sympathy, and expressions of ambivalence and confusion. Lively debates about complex issues ensued. The children clearly enjoyed trying out social behaviors that they themselves labeled as bad, and they were equally keen on subsequently going back to try a better choice."
Further pilot presentations are planned for September. If you would like more information or to pilot this game in your school, please email: michael@zap.ca